The Hartnell College Legacy Society
An Invitation to Join The Hartnell College Legacy Society
Hartnell Community College has put the community at the forefront of its vision. From building early engagement in our k-12 bridge programs, to expanding scholarship and internship opportunities and developing new programs that speak to the work force needs of Monterey County, this community is at the heart of Hartnell!
Whether your goal is to leave your legacy or create a lasting remembrance of the values you embrace, your gift can supplement your income or lower your taxes while ensuring a bright future for Hartnell College and its students.
As you plan your own future, please consider adding Hartnell College to your estate plans. By including Hartnell in your will, you will become a member of the Legacy Society, comprised of people who have made the education of the citizenry of Salinas Valley a priority far into the future.
Your membership involves no dues, obligations, or solicitations, but it does allow us to thank you and recognize you for the plans you have made, and it may inspire generosity in others. Benefits of membership in The Hartnell College Legacy Society also include annual luncheons, invitations to special events and seminars and a subscription to our newsletter.
The most important benefit, however, you will receive from joining The Hartnell College Legacy Society is the satisfaction derived from making a lasting contribution to our long-term prosperity. Education is a vital investment for a healthy and vibrant community. A planned gift preserves the quality of education for future students while developing forward thinking, innovative programs that will address the future needs of our families and this community.
On the For Professional Advisors page, please replace the current text under gift annuities with the following: Hartnell College Foundation has partnered with Community Foundation for Monterey County (CFMC) to provide Charitable Gift Annuities as a giving option for our donors. Giving through a Charitable Gift Annuity provides you with a reliable income source you can count on for the rest of your life and allows you to make a generous gift to Hartnell College Foundation through your estate.
By creating a Charitable Gift Annuity, you will have the security of dependable income today and the satisfaction of knowing your gift will develop local leaders through quality higher education at Hartnell College tomorrow.
How it Works
You make a gift to the CFMC to establish the CGA, naming Hartnell College Foundation as the beneficiary agency. You can donate cash, appreciated stocks or other assets.
The CFMC sets up a contract with you that combines immediate annuity payments with your charitable gift. Payments are guaranteed and are backed by the CFMC's assets.
You will receive a tax deduction now for the charitable portion of your gift and a percentage of your income from the CGA is also tax-free.
The CFMC provides a fixed stream of annuity payments for life, regardless of market conditions.
Upon your death, 90% of the remainder will establish a new fund that will be invested over time to benefit Hartnell College Foundation in perpetuity.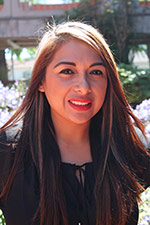 Jackie Cruz
Executive Director of Advancement
Hartnell College Foundation